Best Used Vans in Arizona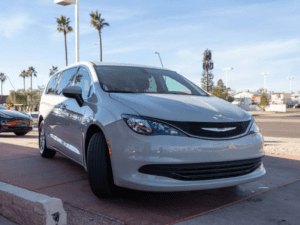 There is no better way to comfortably transport a large family from one place to another than a van.
Vans are spacious and comfortable vehicles, with a large capacity to transport families, way superior to any other vehicle in the market!
If you are looking for a vehicle that allows you to travel through the city or highways comfortably and has a competitive price that suits your needs, you should consider buying a pre-owned van.
Used vans can be purchased from a dealership or directly from the previous owner. Studying all your options well will help you make the best decision for you and your family!
Here are some of the van models that the experts at House of Cars Arizona recommend you consider:
Honda Odyssey:
One of the most popular models on the market for years, with a safe, spacious and quality interior and exterior design. Its powerful engine makes this vehicle feel smooth while driving in the city streets and the highways. It also has an excellent fuel economy.
Chrysler Pacifica:
It is characterized by its comfortable seats for the whole family and entertainment technology for the entire family, smooth driving and a powerful V6 engine.
Toyota Sienna:
A "superstar" in the US market since 1998. It meets all safety standards and can accommodate 7 to 9 passengers. Depending on the year and model, you can find one with a price that suits your budget.
Kia Sedona:
Although many times brands such as Honda, Toyota or Nissan get all the following, this van has a very affordable range of prices compared to the competition. Its spacious interiors and foldable seats make family trips to be more comfortable.
Get your van at House of Cars Arizona
Now that you know more about the most competitively priced vans models on the market, it's time for you to understand how to further increase your savings with the financing options of House of Cars Arizona.
In addition to finding the most competitive prices in our used vans catalogues, you can apply to our
financing options
for used vans.
Regardless of your credit history status, you can be eligible to get financed by our finance department. Our financial experts will create a payment and rate program adapted to the needs of your budget.
The process is straightforward!
Call or email our House of Cars Arizona finance team
Fill out our secure finance application form online
Pay our friendly team members to visit in person.
Do wait any longer! Call our experts now to start your pre-owned van purchase process. Sooner than you think, your family will be driving comfortably through the city and will have great adventures on the road.