7 Ways to Save Money on Your Next Used Car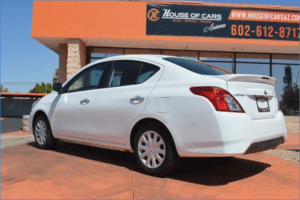 Buying a used car is always a good idea, mainly because it saves money to help you with future expenses.
However, we want to help you save even more money by offering seven suggestions to keep in mind when purchasing a used vehicle.
Consider buying a used vehicle from years back
Buying a car that is at least a few years old can help you avoid the massive depreciation which occurs in the first several years.
Look at different offers from auto dealers
We recommend you browse different auto dealers and compare the used cars they offer and their costs. There may be occasions when different dealers might have the same car model but at different price ranges and financing deals!
Check the vehicle history
When you find a vehicle you're interested in, make sure to check the maintenance report and other vehicle history reports that include accidents. With this information, you can verify if the set price is fair.
Don't be afraid to negotiate
It is not uncommon nowadays to negotiate a lower price with the seller. This strategy will be more effective if you have the vehicle's history on hand. With proof of past accidents and poor maintenance, it will strongly support your reasons for wanting a lower price.
Use your old vehicle for trade-in credit
Many dealerships will allow you to trade-in your old vehicle for credit towards the sale of a new car. Some dealers will even accept a trade-in as the down payment.
Watch out for add- ons
When finalizing the paperwork for your used car, beware of unnecessary price increases like too many add ons.
You'll likely be offered many products and encouraged to include them in your financing for just a few dollars per month.
While add ons aren't necessarily bad; they can result in an unnecessary price increase. Be sure to carefully check and remove those that aren't catered to your needs.
Increase your down payment
When financing your used vehicle, we recommend making a larger down payment, if possible, to decrease your interest rate.
Additionally, making a larger down payment will lower the amount you'll need to finance your car, and it could also result in a lower monthly payment amount.
Choose House of Cars Arizona and don't worry about a thing
Are you looking to buy a used car? Worried you might miss some of the tips mentioned above?
Here at House of Cars Arizona, our professionals handle everything, so you don't have to worry about creating a large checklist of things to remember.
We have a vast selection of high-quality vehicles on hand all the time, so we can guarantee you'll drive away with the perfect vehicle with no unnecessary or hidden charges.
Working with us means you'll always get honest and expert service with your best interest in mind.
Stop by and visit us, or contact us at (602) 612-8717 today!