Steps to Buying A Used Vehicle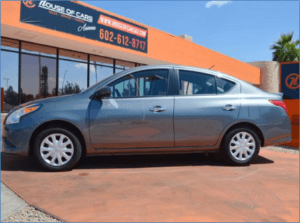 If you are planning on purchasing a car, truck, van, SUV, or any other type of vehicle while on a budget, then buying a used vehicle is a much better option than purchasing a new one. Here at House of Cars Arizona, we have a long history of helping customers buy the best pre-owned vehicles. It is our mission to help you drive away in a stunning car that fits your lifestyle and budget.
This is why we want to share with you 5 of the most important things that we believe you should consider when planning on buying a used vehicle so you can get the best brand for your buck.
1. Determine Your Needs
Before you decide to visit a car dealership, you should start making a list of must-have features and functions for your car.
Do you need a large family vehicle?
Looking for extra storage?
Needing a fuel efficient car?
By deciding beforehand what you need most, it will help you narrow your search and help ensure you don't end up with a car that is not suitable for your needs.
2. Know Your Budget
The majority of people who are looking to buy a used vehicle do it because they want to have an affordable alternative to buying a pricey new one. We suggest deciding on how much you would be willing to spend on your vehicle as well as making sure you have some extra funds for any repairs, payment plans, or regular maintenance down the line.
3. Learn the Vehicle's History
Once you have selected a model you are interested in, it's important to know as much as possible about its history. There are multiple sites out there that can give you the history report of the vehicle you have your eyes on to ensure whether or not it's even worth buying. Things such as mileage, reliability, security, and previous owners. We strongly encourage you to take the time to do a quick revision of your target vehicle's history so you can make an informed decision.
4. Test the Vehicle
After you have finished doing your research, it's finally time to go to the most reliable car dealership location and go for a test drive and assess the vehicle's condition. One thing is what is written on paper, testing how it feels and works is another. Take it out for a test drive!
5. Get the Vehicle Inspected
It doesn't hurt to have the vehicle inspected by a mechanic to see if there are any underlying issues that you might have not noticed during your test drive. Even if you have experience with cars and feel comfortable with it, we recommend having a professional look around to see if there's anything wrong.
6. Be sure to select the best deal possible
Once you have decided on the vehicle and feel that it has passed all the necessary tests then it is time to talk to your dealer!
Ask about payment options available to you and then sign the contract!
We at House of Cars have some amazing refinancing options you might be interested in as well as the best customer service in the market! Be sure to give us a call if you live in the Arizona area!