Top 10 Car Buying Mistakes to Avoid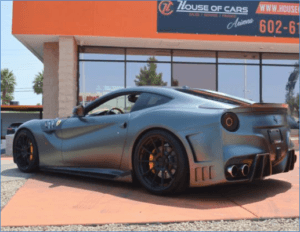 Isn't planning to buy a new car exciting? However, there are times when that excitement may blind us to important things we should be aware of before making our final decision. Here at House of Cars Arizona, we want to help you in your future task of acquiring a vehicle by telling you what we consider to be our top 10 mistakes you can make when buying a vehicle and how to avoid them.
Not Doing Researching
One of the worst mistakes you can make when trying to buy a vehicle is not doing enough research. Window shopping is common with clothing stores and other small purchases, but buying a vehicle out of impulse will affect your wallet more than a jacket. Nowadays, multiple websites can be useful to learn more about the vehicles that are available in the market; which ones have the best safety features, gas mileage, and last longer over the years. It might be a time-consuming task, but is one that is going to help you in the long run.
Buying What You Don't Need
The vehicle you are planning on getting must be suited to the current needs you have. Don't go car hunting until you have a full understanding of what your needs are.
Do you need a vehicle with ample storage?
Do you need extra seats?
Do you need fuel efficiency?
Purchasing a vehicle solely on what you like and neglecting problems you need to solve may put your finances in a tough spot, as you'll be overspending on a vehicle that does not align with your lifestyle.
Choosing Based On Looks
There is nothing wrong with buying a vehicle that has your favorite color or has an aesthetic appearance that you like, but don´t forget that these elements have no bearing on how efficient the vehicle will be or whether it will suit your needs. Be sure you're not led astray by the vehicle's appearance!
Not Visiting Other Dealerships
When visiting a dealership, it might be tempting not to visit another one and just look for a vehicle that closely resembles what you are looking for, but it is not a good idea. Visiting as many dealerships as you can give you a much better idea of what is out there and what the rates are for the car you want to buy. It's a good idea to broaden the scope of your search!
Not Determining Your Budget
Before purchasing a vehicle, you have to plan out your finances and determine what you are able or willing to spend on it.
Will you be buying out of pocket?
Will you be applying for a car loan?
Will you refinance your current vehicle?
If you do not figure this out beforehand, you may end up chasing after a car that is out of your budget.
Foregoing The Test Drive
Many people assume that all the vehicles that are on sale will offer the same feeling when using them, so they skip the test drive. But we guarantee you that testing the vehicle is crucial since it will tell you how comfortable you feel and allows you to consider other things such as blind spots and overall performance.
Not checking Vehicle History Report
This applies more to when you're purchasing a used car. In addition to performing a test drive, you should also run a vehicle history report. With a vehicle history report, it's possible to check for any prior accidents, problems with the car, and the number of previous owners. You should always try to learn as much as possible about the vehicle that interests you.
Not Having It Checked By An Expert
Even if the vehicle history looks clean, that might tell you the whole story. It doesn't hurt to acquire the help of a reliable mechanic to do a quick check to see if everything is in order.
Not Negotiating the Price
Too many people think that the price on a vehicle they are interested in purchasing is an immovable object, but that isn't necessarily the case. Sure, the final price on the vehicle may not budge easily, but it is always possible to negotiate at least the payment plan. Who knows? You might even find out you are eligible for an incredible deal that fits your budget perfectly.
Not Thinking Of Acquiring A Used Car For Sale
Sometimes people think that when buying a vehicle it has to be a new one since it will offer more advantages than one that is used. However, that isn't necessarily the case. Sure, a new vehicle is going to be in perfect condition, but it will also be quite expensive as well. Just because the vehicle is used doesn't mean that it will not have what you are looking for, not to mention it will save you money that you can use later on. You should check with used car dealers and see what they can offer! Here at House of Cars, we have a wide range of models to choose from, as well as an exclusive financial program that can create a package that is tailored to your needs! Be sure to give us a call if you're looking for the best dealership in the Arizona area!